This is a question often asked by many. When compared to other flooring options – a solid wood floor, quality carpet and good marble – polished concrete is very cost efficient. Once completed, your floor will last as long as the house (and maybe even longer). There is generally no re-sanding, varnishing or replacement required, leaving you with low maintenance costs.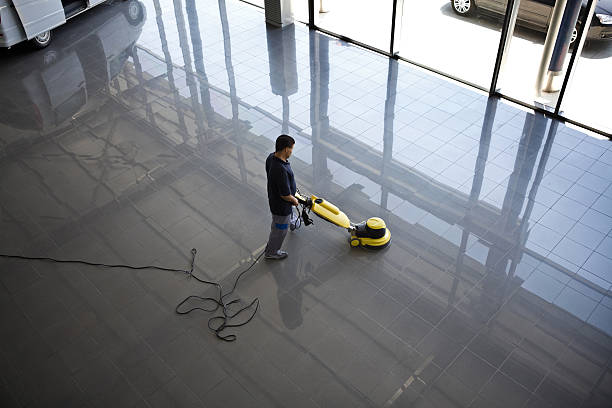 Factors Contributing to Price
The average cost of polished concrete floors ranges between €70 and €160 however, this differentiates depending on numerous factors. Let's talk about these in further detail.
Where manual labour is required, costs increase. This occurs when equipment will not fit into particular spaces, including corners of rooms. Square and rectangular shaped floors will always cost less than irregular shaped, for example, sloping or curved floors. Although larger scale jobs will have a much lower per meter cost than smaller areas, remember that a larger area will also require more cement.
This determines whether or not the surface is ready for a concrete pour. If no cracks exist and the floors' sides and edges are perfectly sealed, then you don't need to worry about additional costs to be spent on epoxy, filler and labour
There are 3 types of polished concrete, however all at different prices. – grind and seal concrete, honed concrete and mechanically polished concrete. If you are on a tight budget, grind and seal is probably your best option as it is most affordable. However, this doesn't last very long and may require replacement down the line. Honed concrete is similar, yet more durable, lying at a mid-price
range. Though mechanically polished is the most durable and aesthetically pleasing, this also comes with the highest price tag.
When it comes to floor design and appearance, we all have different tastes and preferences. The level of sheen desired impacts how much grinding needs to be carried out, in turn increasing labour costs. As the design of your floor becomes more intricate, the price also increases. There are 4 types of
polished concrete finishes
– Bronze, Silver, Gold and Platinum. Concrete's resistance to staining is facilitated through the polishing process. Therefore, the more the concrete is polished, the more its pores are closed. A Platinum finish is a highly polished finish, the most expensive of all as this type involves the most grinding. Design options can range greatly, but remember a plain floor costs less than a coloured polished concrete floor.
You may be thinking as to why you should choose polished concrete when other flooring options also provide many design options. Let me tell you why.
Polished Concrete VS. Traditional Flooring
Are you looking to save on heating and lighting costs in your home? Thanks to polished concrete's
thermal mass and ability to retain heat, it is an excellent energy-saving solution. This allows the
fluctuations of indoor temperatures to be moderated. Through its' light reflective properties, any
natural or artificial light will also be reflected throughout your home.
Although other flooring options, such as tiles, may appear to be cheaper, they are less durable in the long run when compared to concrete polished flooring. Unlike cheaper flooring options that stain easily and require frequent cleaning, polished concrete floors need only a small bit of maintenance. The absence of grout joints and gaps means that there are no magnetising traps for dirt and dust. In high traffic areas, for example supermarkets, these floors only require a buff and reseal every few years. Therefore, just think of how long it will last without requiring major maintenance in your home.
Aside from being easy to maintain, polished concrete flooring also holds other benefits. Through mixing colour into the concrete, staining, coatings, textures and patterns, the choice of colours and design is endless. It is easier to clean and is also environmentally friendly, requiring only a simple rinse with water and soap. Some types of flooring, such as carpet and hardwood floors can harbour
mould and other allergens, while also containing harmful Volatile Organic Compounds (VOC). All of this can be detrimental to your health and your house, in turn leading to costly repairs.
Though polished concrete may appear to be expensive in the beginning, in the long-run it is highly cost efficient. If suitable for your home or business, we firmly believe that this type of flooring is worth every penny!